As springtime came to the rolling hills of Fauquier County in March so did the Virginia QSO party – a big event for the membership of FARA. This year brought a great deal of excitement and anticipation since the COVID-19 restrictions were gone and the solar cycle 25 had really ramped up.

Some members of FARA start preparing and planning their home stations or mobile operations long before the event while others, either new to FARA or the hobby itself, just did what they could do with their new radios. The idea was to participate anyway you could, but the emphasis was on fun!

As expected, the bands were really hopping this year. For the last four or five years 80 meters was the band that got the most work, but this year 40 meters was the band to be on. However, there were plenty of contacts to be had on all of the available bands.

Below are some pictures, comments, and slideshows of various members who were kind enough to share them with us. Some included interesting anecdotes about their personal experience from the contest, to which I provide hyperlinks so that you can read them in their own words rather than summarizing them here. A big thank you again to those who freely shared their adventures.
Ross, N4RP
"Note the Wouxun KG-UVD1P hanging by it's power cord.  I had to scrap the FT-817 mid-contest since it's close to deaf on 2m, and dead on 70cm."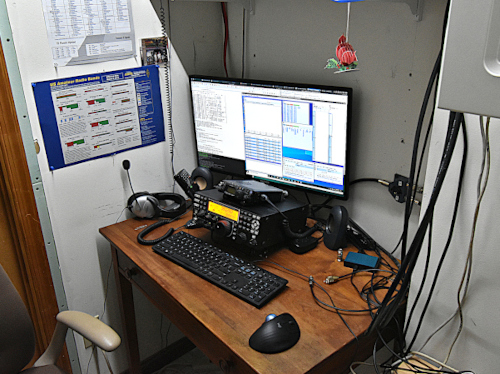 Ross, N4RP. Note the Wouxun KG-UVD1P hanging by it's power cord. I had to scrap the FT-817 mid-contest since it's close to deaf on 2m, and dead on 70cm
11-year-old Bri, KO4NLR, opted to go mobile again this year and operated the whole weekend while being taxied thru 22 counties/cities by her dad, Nic, KO4IUM. One of her highlights for the weekend was another QSO with KG4EIF and his two young children, who, back in 2020, were one of Bri's first radio contacts and inspired her to get licensed. Another highlight of the weekend seems to have been catching an antenna on an abnormally low traffic light guywire in Charlottesville! No antennas or public property were harmed in the incident, but that won't keep her from bringing up how her dad hit a traffic light for many QSO parties to come.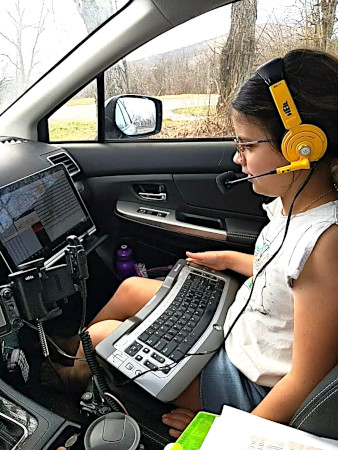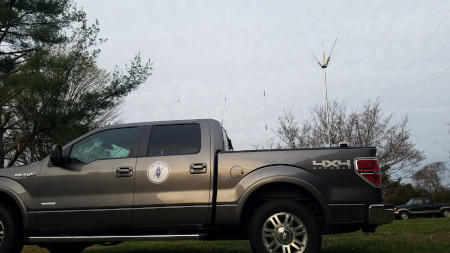 Greg Moyers- KI4ZKJ
"While not as active as in prior years, the KI4ZKJ mobile station saw some activity this past weekend.
I also helped at the W4VA multi-multi station on Sunday."
Jim and Karen Russo – K4JJR and W4KRN respectively
"For the past 5 years or so I've been operating our 'emergency' or basement station for VAQP while Karen, W4KRN runs the usual daily ham station upstairs. I like to use the vintage FT-901DM with its tube finals since it can comfortably put out 160 watts, but this time I had a few failures along the way.
"Pre-contest check of the DX80 Dipole showed good SWR readings across 80 and 40 meters and normal receive signal levels. However, the 40 year old Yaesu FT-901DM (lower left) would not tune up properly – 40 watts out maximum with much higher than usual Plate current, so I switched to the slightly newer 30-year-old. FT890 (lower right) which worked for a while but started transmitting erratically until it failed down to zero output power. So digging back in the cabinet I broke out the 10-year-old Yaesu FT-450D (upper right) for the rest of the QSO party. Wow, what a difference compared to those older radios! I think I'll leave this one hooked up. I guess in this instance, it pays to have too many radios! In the meantime, I have a couple of new troubleshooting projects to work on and doing extra checks on the wire antenna just in case.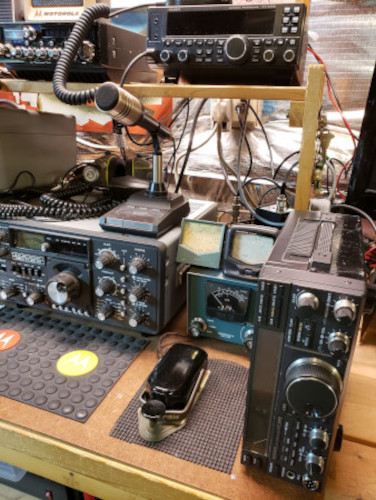 Zach, K4AKO in his 2nd year operating the VAQP with his XYL Brandy riding along handling the logging duties (and maybe directions too)
Read More about Zach's Experience
Andy, K1RA and Terry, W8ZN as KW4VA/M went mobile in their contesting van. They spent day one cruising Skyline Drive and day two braving the Virginia suburbs of D.C.
Read More about Andy and Terry's Experience
Justin, NB3A/M and Anna, KN4DWZ Muti-Multi Mobile (along with Sassy, Sophie and Blue) seem to always have the most interesting adventures each year and 2022 was no different. It starting off with a bit of a vehicle issue: a bad O2 sensor and connecting exhaust pipe. No narrative can do the story justice, but the pictures explain it all!
Gil, KM4OZH/M made a few tweaks to his annual mobile efforts this year that included adding his home-built dual-PTT- button steering wheel mount and twin microphone boom.
Matt W4GO/M the every-popular mobile operator, did something different this year. He went mobile in SE Virginia on CW only. Follow the link after the slide show for his well detailed report.
Read More about Matt's Adventure
W4VA MM Finally, our own Multi-Multi station was graciously hosted at KA4RRU. The operators who spent time operating at this station were Mike, KA4RRU; Greg, KI4ZKJ; Bekah, KJ7APV; Chuck, KO4VNZ; John, KX4O; Brian, WC4J; Dan, WA4GSD; Stu, W7IY; and Richard, K3UI.